Play & Reading Notices
An Evening of One-Act Play Readings including
Larry Herold's
"First Lines"
and
Stephen Girasuolo's
"Tough Love"



Saturday, January 10, 7pm
The Workshop Theater
312 West 36th St. (bet. 8th & 9th Aves.) 4th Floor


THE FRANK SILVERA WRITERS' WORKSHOP PRESENTS
A READING AND CRITIQUE OF:
"PERMANENT STAIN"
by Lisa McCree
directed by Ted Swindley

ART INSPIRING ART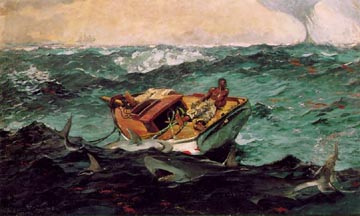 "GULF STREAM" By Winslow Homer

"Permanent Stain" a new play by Lisa McCree, is influenced by 19th Century Artist, Winslow Homer. His impression was that of the helplessness of humans before their fate, as in the "Gulf Stream." This Play mimics the scene of tumultuous waters with choreographed and swift moving dialog, as the helpless victim pleads for his life.

In "Gulf Steam" a man is trapped in a boat in the middle of shark infested waters; in "Permanent Stain" a man is lodged in the windshield of a car as Mallory, age 27, manipulatively orchestrates a crew to help her dispose of the mess.

Denial can sometimes make us do strange things, and fear can make us appear down right irrational. Experience it first hand as you journey twelve hours stuck in what most would call the worst kind of hell, as Mallory and her "friends" try to avoid consequences of her actions. Inspired by actual events


Assigned by The GENESIUS GUILD Revolutionary Writers Workshop

In the HOUSE OF CHAMPIONS
at the HARLEM THEATER COMPANY
473 WEST 150th STREET
between Convent and Amsterdam
JANUARY 12, 2004 (Monday night) at 7:30PM
FREE AND OPEN TO THE ARTS COMMUNITY
FOR FURTHER INFORMATION CALL THE FSWW @ (212) 281-8832 WEBSITE Frank Silvera Writers' Workshop EMAIL: playrite@earthlink.net
Funded in part through the New York State Council on the Arts, New York State Department of Cultural Affairs & private contributions

A full length play reading of
E. Lincoln Astor's
"Changing of the Gods"
A Battle of the Olympians
Saturday, January 31st at 1:00 pm.
Times Square Studios
300 West 43rd Street, 3rd Floor.


Workshop
Back to Top
GadaboutNY